Removing Users from an Organization
Managers and administrators have the ability to remove members from an organization. Note that managers cannot remove administrators.
To remove a user from your organization, navigate to the Organization > Users tab.
Next, locate the user you want to remove and click the trash icon next to their entry.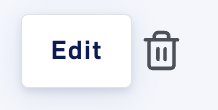 Clicking the trash button will open a popup to confirm you want to remove the user from the organization.