Lilt + Adobe Experience Manager (AEM) connector enables companies to automatically push and pull web content between AEM and Lilt. This saves you time by providing seamless localization while letting you continue to work in the systems you know.
Watch this 5-minute overview to see what Lilt + AEM can do for you. 🎥
Configuration
During the onboarding process, Lilt's Solution team will set up the connector in your AEM instance to use the Lilt Translation Method you've selected:
Instant Translation: Immediately localize content into any desired language using Lilt's Contextual AI.
Verified Translation: Send AEM content to Lilt's in-house translators for localization.
Instant + Verified Translation: Lilt immediately returns a localized version of your AEM content, while simultaneously sending the content to Lilt's in-house translators for localization.
Workflow
Once the connector is configured, content is moved between Lilt and AEM as outlined in the sections below.
Project creation
In AEM, click Create > Project and then choose the Translation Project template. Configure the project, select the target languages, and select Lilt as the Translation Provider. Add content to the project and click Start in the Translation Job menu. This will send your content to Lilt.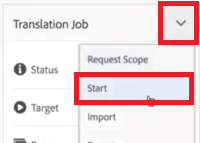 When content is sent to Lilt, Lilt automatically creates Jobs for the content to be translated.
Project monitoring
You can monitor the progress of your translation in AEM under the State column on the project details page.

Project completion
Once a translation is complete, review it in AME and click Accept Translation. At this point, the content is ready to publish.