When a Project is complete, you can use the Deliver button in the top right corner of the page to send the finalized content.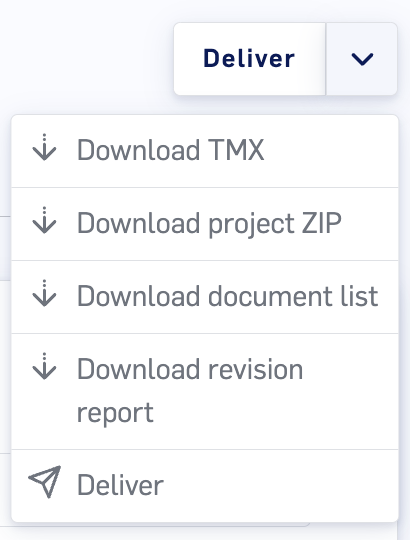 Project TMX
Clicking the Download TMX button generates a TMX file for you to download containing the translation data for the entire project.
Project ZIP
Clicking the Download project ZIP button generates a ZIP file of the project for you to download. The file contains the most current translations for all project documents (whether or not the translations have been reviewed).
Document list
Clicking the Download document list button downloads an Excel file with basic document metadata and statuses.
Revision Report
Clicking the Download revision report button downloads an Excel file with a read out of all segment revisions and comments made during Review stages.
Deliver
When it comes time to notify that a project has been completed, click the Deliver button and confirm this action. Confirmation will move the project from the Active Projects list to the Delivered Projects list, and send the content through any Lilt Connector that is integrated.
Delivering content
There are several ways that completed translation content can be delivered to its target destination:
Manually download the content from Lilt and send them to where they need to go.
Utilize one of the available Integrations to send content directly between Lilt and the connected application.
Use the Lilt API to build your own custom delivery solution.